Best Roof Restoration Service in Canberra ACT
Roof Restoration Canberra
Our professional team of roofing contractors are experts at roof restoration in Canberra. We handle all restorations of residential, commercial and industrial properties. Get in touch with us today for a free no-obligation measure & quote.
Our Professional Team Makes Roof Restoration A Cost Effective Solution.
What is a roof restoration ?
The process of restoring a roof usually incorporates cleaning, repairing and painting the roof. Roof Restoration Canberra is designed to make your roof last for years to come, while often being a budget friendly option compared to a full roof replacement. 
A roof restoration in Canberra is a different process compared to a repair or a replacement. Firstly, a roof repair is often even cheaper than a Canberra roof restoration as it usually involves repairing a small issue with the roof, for example fixing a leak. A roof replacement is often the most costly option, as the roof needs to be fully removed and  requires replacing it with a new one.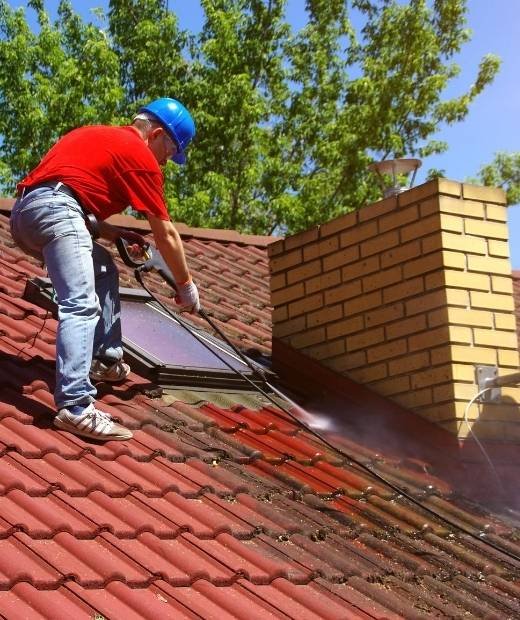 Roof Restoration Canberra
Our professional team of roofing contractors are specialists at roof restoration in Canberra. Currently, you may be questioning if you require a roof restoration or not. The climate in Canberra isn't perfect, and it can be unstable at the very best of times. You may be looking at your roof and by the looks of it; your roofing hasn't become a victim of the harsh Australian weather or wild storms just yet.
Well, right here are a number of things to watch out for. They indicate when a roof restoration Canberra may be on the cards. We won't be discussing the noticeable examples like "having a large leak" for the sake of conciseness. If the reaction to any of the subsequent questions is "Yes", Do not think twice to call Action Roofing Restorations.
The tiling or metal roofing has actually started to decay
You are observing cracks or shifting of tiles or colorbond sheeting
Water drips, despite how small are beginning to emerge
You are detecting marks and blemishes as well as are quite sure they were not there recently.
Your house is more than 10 years old, which shows the materials used to construct the roofing system are too.
Every one of those are tips indicate that the roof is no longer in excellent shape, and needs roofing repair work or roof replacement. If the problems advance, it can increase into much bigger problems. Ultimately, a roof restoration Canberra will save you a lot of money. Although it can appear to be a substantial financial strain, think of the repercussions of leaving the issue to materialise into bigger problems?

Why Get your Canberra roof painted?
Roof Restoration Canberra
# 1 Professional Roofers in Canberra
To make sure you get the best results for your roof restoration, we make use of a roof coating system by Dulux. It is defiant to the tough Australian climate as well as maintains its colouring for decades. Moreover, we carry out an evaluation of the location to eliminate anything that might jeopardise the roofing remediation prior to we begin the job.
Ultimately, we customise the project for each and every client. This ensures you can have total peace of mind knowing that we have actually taken everything into consideration before our professional roofing contractors get the job underway. Nevertheless, our roof painting procedure just requires two to four days to complete, relying on ideal weather and also the dimension of the roof. If you're bothered with time or having it completed in one step, we can separate it right into a simple two-step procedure. That is no worry in any way for us at Canberra Roof Restoration.
What We Do at Roof Restorations Canberra
OTHER canberra roofing Services